New York State Teachers of English to Speakers of Other Languages - Event Information - New York State Teachers of English to Speakers of Other Languages
Event Name:
The role of 3DMUVE (multiuser virtual environment) task-based learning within a multimodal tertiary-level foreign language curriculum
Description:
Students learning LOTE languages at university in predominantly English speaking countries face a number of challenges. One of these is the constrictive requirements of the conventional tertiary curriculum format. The webinar will focus on the integration of the "Chinese Island" approach to culture curriculum and involve a number of scenarios that provide the context for authentic learning through interaction with programmed virtual characters in order to complete set tasks that occur in everyday life in mainland China. Participants will be provided with rich opportunities for multimodal, situated learning and research resources that have shown a range of benefits to language learners.
Dr. Grant is currently Lecturer in Chinese Language and Culture at Monash University (Australia). His research interests include the educational uses of digital technology and particularly 3D multiuser virtual worlds and XR (Virtual Reality, Augmented Reality, Mixed Reality), specifically in the field of foreign language learning and intercultural communication.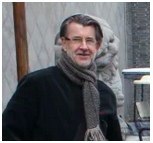 Event Time:
5:00 PM - 6:00 PM Eastern